Composition:
Cover: 100% organic cotton
Filling: hypoallergic silicone fibers
The filling is removable. You can open the pillow,
remove and ad more filling, accordingly to your needs and preferences.
Care / laundry suggestions:
The pillow and the cover are separate. You can wash them both in 40 C degree.
Please remember to follow the instructions from laundry tag attached to the item.
To protect the filling fibers, we suggest to obtain from using fabric softeners.
Certificates:
All materials used in POOFI products are Oeko-Tex Standard 100 Class 1 certified (can be in direct contact with the skin of the newborn)
Organic cotton used in this product is certified.
The POOFI nursing pillow "arm band" is a comfortable product which makes breastfeeding easier. It stands out with its functionality and modern design.
The POOFI pillow has been especially designed to meet the needs of nursing women. It is easy to use and has many different ways of use.
The arm band pillow can be also used as a standard pillow – it can be opened to flat position.
The pillow contains 2 separated areas and each has the option to regulate the volume of filling .
The multifunctionality of the pillow allows it to be used not only for nursing but also as a belly support during pregnancy, as a baby pillow during car traveling.
This is how we pack it for you: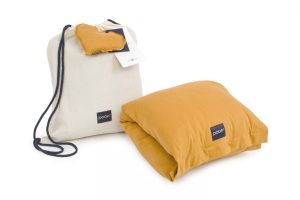 Maschine washable
Made in Poland