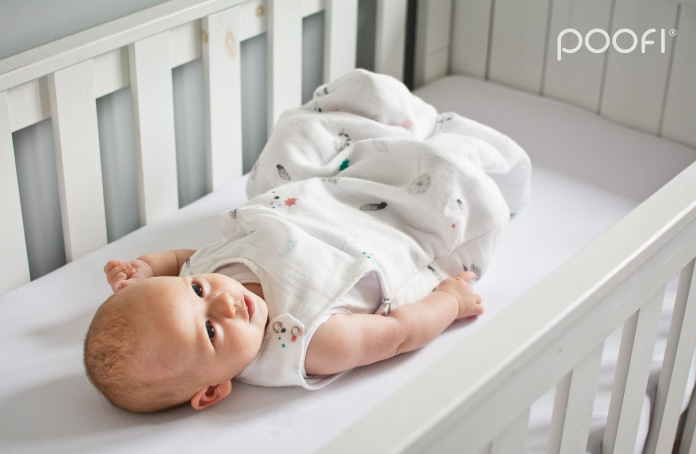 Crib – peace and harmony
Preparing a room for their baby most soon-to-be parents put a lot of attention into picking up the right crib and comfy bedding. Problem of choosing the -right-  bed seems to be a very obvious one, meanwhile picking up bedding or bumper pads – it is something we seem to treat very lightly. But we shouldn't. Take a moment to read about a few details we think we should put more attention to while preparing our baby's room.
Crib – today options while shopping seem endless. Even when it comes to furniture for babies. Products can amaze us with unique designs, quality and functionality. We can pick between traditional designs, modern style or even fairytale-like furniture made for a little princess and space knights. But when we are getting our first crib, we should think not only about design and quality, but above all, safety.
What to look for?
adjustable height/bottom – at least two

adjustable mattress heights are a must. When the baby is still small and can't sit alone, you can put the mattress on the highest point and this way you can put your baby to sleep without bending down too much. With time, as the baby will grow and learn to sit and later stand alone, you can put the bottom lower, creating deeper and safer space for him to sleep and play;

it should be possible for you to remove a few rails from the railing or one whole railing frame, to make it possible for the toddler to go in and out of bed on his own. There are available additional 'toddler rail kits' that you can order and set up to your crib, converting it into bed. It's important to remember that the the space between rails should not be bigger than 6cm; wider space can be dangerous for the baby;

good bed should be

suitable from

newborn up

to

3 years;
Cradle / Moses Basket – this product is very popular among many new parents for how convenient it is. Its size and the fact that it is so easy to move it around makes it a perfect choice for many. Not every new mom is ready to put her baby away into a crib right away. They want to keep their newborn close, that's why they pick Moses Basket they can put right next to their bed and have their baby close and safe. The only downside of this bed is the fact that it is useful only for a few months and then growing baby needs a new bed  [ usually it serves for around 6 months].
There is also an option 'in between' of these two:
Side sleeping crib – –sleeping cribs are attached to the side of your bed, so you can just reach over as opposed to getting up and walking anywhere. They allow you to keep your baby close, while following safety guidelines to have your baby in a separate crib. Effectively, you're lying next to your baby, but you're not sharing bed coverings. This closeness is very important to every child.
After getting the right bed, we should pay attention to the right bedding.
Mattress – should not be too hard nor too soft. While buying we should check what kind of filling is used – it should be anti-allergic, breathable and with surface that will follow the body's contouring as close as possible. Getting a good mattress is important because your baby will spend most of his time lying down on it.
Sheets – sheets with elastics are the best. They are easy and fast to use, they always look well and you don't need to fix it all the time. The best fabric to choose is cotton of course, soft and natural.
Duvet – yes, but not right away. Duvets and pillows are just too complicated for a newborn. Experts recommend using duvets not earlier than after 3rd month, and remember about using ones in the proper size. First bedding should not be bigger than 65×70 cm, after 6th month it can be 80x100cm, for 1 year olds 90×120 or 100x135cm. For these earliest months the best solutions are sleeping bags, baby wraps or soft blankets.
Pillow – not recommended for infants. Using too high pillow so early can cause problems with poor posture later in life. They make it hard for babies to turn their heads and thus can be very dangerous. If we want to prevent food from spitting up and put our baby's head higher, you can lift one side of the mattress up, use wedge pillow or put your baby on its side.
Bumper pads – this soft bedding that is attached to the sides of the crib is very popular, but we think this accessory is rather needless, or even inadvisable, especially when babies are very young. Infants usually don't move around much and usually sleep in one position. The only thing bumpers do then is restricting the air circulation and being a potential health and life hazzard. Just like a pillow or thick blanket, crib bumper pads can restrict a baby's breathing if the bumper is up next to the baby's nose or mouth. Suffocation risk is highest when babies are very young and unable to move themselves away. Bumpers start to be useful when baby gets older, around 5-6 months old and starts to move around a lot more. Then it can protect the baby from hitting himself hard while turning around and will prevent them from sticking their limbs between rails.
Baby's bed and all additional accessories should stay simple and serve only one purpose – to protect the baby and give him the best comfort possible.
We should remember about differences between what infants and what toddlers need and prepare their room according to that. Their surroundings should match and follow their age and their sleeping space should be always their safe zone.